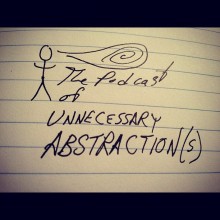 ---
Ep 7: Behind The Curtain
Micah and Ryan bring back scholar-at-large Robert Franks to pull back the curtain of the world, do some name-dropping, unveil the secrets of Kanye West, and discover the conspiracy behind Hollywood's obsession with the Wizard of Oz. Welcome to Brickcaster Season 2!
Read our incredibly detailed shownotes here. Topics covered include:
Doesn't this look good on a resume?
A Michael Jordan moment
...or was it a Mario Lemieux moment?
Something about Lance Armstrong
Titular Appellations or was it Titchular Appalachians?
Or maybe you should just get a job with Dave Ramsey?
Name-dropping Brad Montague
Ryan and his mafia-esque nicknames for people
…reminiscent of The Wire
"The Origins of Ponyface" …. (soft dissolve)
Anecdote or antidote?
The new album by Kanye Twitty, I mean Kanye West:
Yeezus,
featuring the lead single: "I am a God"
Having a Come to Yeezus moment
John Milton reinventing religion to suit himself
Mythicism
The Alchemist, by Paul Coelho
Art is charlatanism
Shamans and tricksters
Bringing the metaphysical to earth
Art is what you hide from the viewer
Our motto or mantra: Keep it Publishable
Name-dropping Venkat Rao (my interview with him)
Venkat's expose of The Office: The Gervais Principle
The completion of The Gervais Principle: Becoming a sociopath as a quest of questioning, a process of pulling back the curtain
Will to Power vs Natural Grace
Hollywood is a manufacturer of western-like religious experiences
Seeing behind the movie theatre curtain, or "Why Hollywood is infatuated with the Wizard of Oz"
Cerealized Dickens, I mean, Serialized Dickens
Name-dropping Charlie Seaton
Being metaphorically sober
Sports talk
Sports references and euphemisms
Preface or Preface or Prefix or Prevaricate  
Prologue
Words like Mendacity and Interlocutor and Eclectic
(If you say you have eclectic taste in music, you don't)
Words like Quotidian
Generational Chasm (or was it Generational Chiasm?)
How humanity is just an extended version of mammalian childhood
The expansion of the gestational phase of our species
The origins of teenage-hood. Pushing back against adulthood, an emphasis on the ephemeral.
Rock and roll helps explore new possibilities for adulthood
The Charles Dickens biography by Peter Acroyd, and how Dickens wrote as a reaction to being sent to work at an early age
Emergent adulthood as discussed in The End of the Parade
The Egyptian revolution and Micah's experiences in Tahrir Square
New Mexico is really close to space, man
Effigies and ivory
Art as artifice. Can you be an artist without being artificial? Can you be successful without being artificial?
Jam Bands vs Tribute Bands
Bruce Springsteen
Name-dropping Peter Rollins
"There's Nothing Behind the Curtain"
Suspension of disbelief is the basis of art
A magician does not reveal his secrets. A songwriter does not reveal his lyrics.
The more I know about the experts, the less meaning I see there.
Venturing behind the curtain is a loss of meaning.
Familiarity breeds contempt
A prophet is not respected in his hometown — because that's where he tried out all his starter material.
Name-dropping Jeffrey Novak
That movie about Jay Reatard
Bob Dylan was just mimicking Woody Guthrie, who was ill
Bob Dylan things: Highway 61, Self-portrait, Nashville Skyline, The Boxer
We're not mentioning Icarus
Opting-out of the climb
Crashing and burning
Rap is about bravado
Kanye is like Bowie
Abbreviation, Acrostic, Acronym?
---
Ep 7: Behind The Curtain
Micah Redding
01:46:25
---