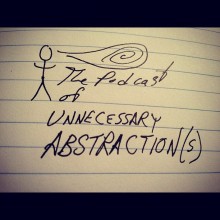 ---
Ep 5: Pandora's Box
This episode was recorded on Christmas day 2012, but is only now being released in July 2013.
This podcast has opened Pandora's Box, and once opened, the box cannot be repacked. We delve into mythology, internet radio services, popular chain restaurants, cross-species interbreeding, alternate histories, and Free Willy. Come along for the drive.
Read our incredibly detailed shownotes here. Topics covered:
Pandora's Box in mythology, jewelry, and internet radio.
Pandora's Box as the much darker version of Jack in the Box.
Jack in the Box, the restaurant.
Jack in the Box doesn't exist in Nashville.
Jack Box, mascot of Jack in the Box.
Human-nonhuman interbreeding.
The similar origins of Tewodros Bear and Teddy Bear.
Jesus has a Meyers-Briggs of INTJ, contrary to this; but God has a Meyers-Briggs of ENFP (personal research).
The pseudo-historical Russian New Chronology says that history began in approximately 1000 AD, when Jesus was crucified at the beginning of the crusades.
Mystery, the pickup artist.
Girls and Money, the band.
John Lennon's secret name in the Quarrymen (do your own research).
Jumpin' Jack Flash, Jack Frost, and Robert Zimmerman nipping at your nose.
Groundhog pope and six more weeks of Lent.
40 days and 40 nights, that one movie.
Around the world 80 days, a story featuring Phineas and Ferb, I mean Phineas Gage, I mean Phileas Fogg.
Ted, the surprisingly heart-warming movie about a crude talking bear.
Human-nonhuman interbreeding.
---
Ep 5: Pandora's Box
Micah Redding
00:24:51
---